Your trip to Magnesia begins in Volos / Nea Ionia, a dynamic modern city in one of the most beautiful parts of Greece. Check into one of its many comfortable hotels, and you are ready to start. Visit the Archaeological Museum of Volos, the Neolithic settlements of Sesklo and Dimini, the Giorgio de Chirico Art Centre, the Kitsos Makris Folk Art Centre, painter Chrysoula Zoyias "house with the rose". Take time out from your shopping in Volos and Nea Ionia to relax over coffee or a drink in one of the citys countless cafes.
Pelion... a window on the Aegean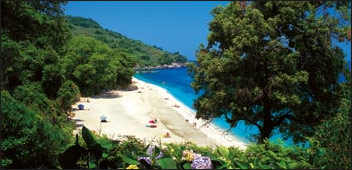 A dense network of roads serves the picturesque villages of Mount Pelion, but you can also begin your exploration of the mountain of the Centaurs with the legendary "mountzouri" (the smudge), one of the very few steam trains still in existence, and enjoy the uniquely beautiful journey from Ano Lehonia to Milies.
If you enjoy hiking, choose any of the twenty-nine stone paths through the streams and trees (apple, plane, chestnut), and we guarantee you wont be disappointed. For the more adventurous, there is horseback riding or you can hire a mountain bike.
Fall in love with the mountain villas and their distinctive architecture, buy local products and folk art. Enjoy a dish of old-fashioned preserves at one of the many picturesque cafes and drink in the unbounded view of the Aegean.

Source :
https://www.magnesia-tourism.gr